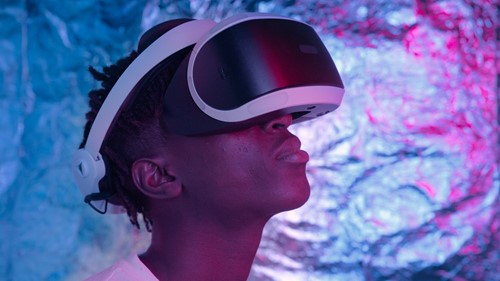 When searching for the latest and greatest in high-tech decorating, game room design is the perfect place to find your inspiration. Some of the best video game room designs feature top-notch equipment for lighting, sound and stylish furniture.
If you're interested in bringing the pro gamer aesthetic into your home, here are some tips to help:
Optimize your lighting
To get the most out of your video game experience, you want the perfect level of ambient light in your space. Ambient lighting prevents screen glare while also protecting your eyes from unnecessary strain.
For example, use multicolored LED lighting strips on the backs and undersides of furniture and components for a cool, futuristic aesthetic. This will provide just enough illumination to maneuver comfortably without being distracting.
To benefit both work and play, try an LED ring light for better webcam performance. Most lights on the market have multiple brightness settings and color modes to fit your specific needs while streaming or chatting via webcam.
Choose the right gaming chair
While there are many prestige "professional" gamer chairs on the market, they are far from one-size-fits-all. In fact, you might find the perfect gaming chair for you is a different style of chair entirely.
The most important things to keep in mind when choosing a chair are ergonomics and adjustability. For both PC and console gaming, it's essential to pick a chair that will give you the right back support and healthy forearm and wrist placement. Chairs with adjustable armrests are ideal for this purpose, but prioritize your comfort above all else.
Make room for movement
If you intend to use your game room for virtual reality games, you'll need to plan your design accordingly. Most VR games require a specific square footage to operate safely, so if you don't already have the right amount of space, plan for adjustments.
Furniture that is lightweight and easy to maneuver is ideal for making spontaneous VR gaming space. Cable management tools also prevent both tripping and electrical hazards by keeping cords close to the walls. While you don't need to dedicate an entire room to VR gaming, flexibility and safety are crucial.
Using these video game room ideas as a starting point, you can let your imagination run wild and create the gaming space of your dreams. Combine the latest technology with your favorite game room decor like wall art and decorative accent lighting to level up your game experience.