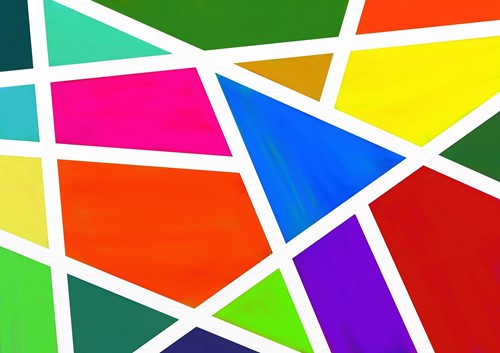 Decorative wall art doesn't need to cost a fortune. It also doesn't require any formal artistic training. There are several simple ways you can create beautiful wall art inexpensively and easily using basic materials you buy at the craft store. Here are some of the best ideas for making your own decorative wall art:
Paint With Masking Tape
Painter's tape, also called masking tape, is just as useful for artistic projects as it is for painting your walls. You can use it to create geometric patterns and compositions with perfectly straight lines that look just like professional mid-century modern art.
To create your own geometric piece, simply take a plain canvas and add tape in whatever angles look interesting to you. You can use one large canvas or create a gallery of multiple small canvases depending on your preference and amount of space. Use a mix of different tape widths for different sized lines. Once you have your tape in place, fill the empty spaces with color using acrylic paint. When the paint is dry, remove the tape and enjoy your professional-looking DIY wall art.
Try Stencils
Stencils are another way to make eye-catching wall art inexpensively and easily. You can find stencils at any craft store in a variety of patterns, shapes and motifs. To paint using stencils, simply tape down the stencil to your painting surface so it doesn't move or smudge. Then, using either acrylic or spray paint, follow the pattern of the stencil carefully to translate the shape onto the surface.
Try layering different colors and stencils to create your own unique textures and compositions. You can also use letter and number stencils to write out words or phrases in a wide variety of fonts. Once the paint dries you can remove and save the stencils for your next project.
Take Apart a Calendar
Wall calendars are a secret treasure trove when it comes to easy and inexpensive wall decoration. By taking apart old calendars, you can hang up the art or photos included on their own or in a gallery format. This is an especially great way to fill your home with famous fine art that would be expensive to buy in prints. You can hang up the calendar pages on their own or frame them for a sleek and modern gallery look. The standard square size of most calendars lends itself very well to a variety of wall spaces and gives collections of images a contemporary feel.
Wall calendars are available year-round, but are everywhere around the holiday season. Look out for stores and kiosks selling them for an easy source of artwork. Sometimes retailers sell calendars from previous years for a hefty discount. When you're using it for the art, the dates don't matter. This means you can stock up on your old used calendars and save them for later when decoration inspiration strikes.
These are just a few simple and inexpensive ways to DIY decorative wall art. Once you have the right tools and know the basic techniques, you'll find you can create a perfect piece of art for every space in your home.